About Our Cast
Names Of Our Performers - 2006
Magnificent 7pm Variety Show: Starring Joe Tinoco, Tamra Holden, and Amanda
2006 Cast:: Elisha Deel, Stephanie Haygood, Samantha Shucknict, Ben Naus, Jason Froeschle, Dusty Wooldridge, Larry Foster, Chip Holderman and special appearances by Talya Tinoco
Band: Jeff Donachy, Darrell Croy, Geoff Clark, Jay Parks, Dennis Scheltnick, Doug C, Mike Carroll

Our Cast gives Tribute on each and every show ... To Our Brave Soldiers & Veterans
Executive Producer: Bob Wehr. Mr. Wehr is also the owner of The White House Theatre
Photo: Bob Wehr & Amanda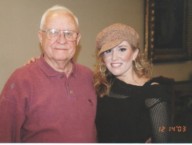 Come out and enjoy the evening with us.

Our Shows are periodically filmed during show time for TV ... so be prepared.
The White House Theatre
Magnificent 7pm Variety Show
Add Dinner at time of ticket purchase $4.95 (with a paid full price admission)
Call 417-335-2396 or 1-877-487-2386
7pm ... Every Monday - Friday
We are open all year.
Special Christmas and New Years Shows!
755 Greatna Road
Branson, Missouri 65616
FIRST CLASS ENTERTAINMENT
Saturday Nights - features the "Showcase Jubilee" a completely different show starring Amanda and the cast ... Joe and Tamra will ocassionally co-star on this show ... check with the box office for specific dates!